Bitcoin is gradually moving towards the critical resistance of 10K since the third. Bitcoin halving took place a few days ago. BTC has attempted to break this decisive resistance twice in a week. However, considering the current positive momentum of the crypto market and the technical analysis forecast that the key resistance would hold the BTC price within 10K range for long.
At the same time, some crypto analysts consider the rejection of BTC price from this important resistance as an upcoming bear trend in the crypto market.
The past trends of BTC price movement after a significant event like halving and pattern in price change within this range offers a different picture. The technical analysis and fundamental evidence suggest that Bitcoin's price is on the edge of breaking this resistance level and a massive rally to follow next. As per the below technical analysis estimate, the Bitcoin is currently following the second semi-circle that leads to pushing the bitcoin from the decisive 9,500 – 1,000 price range.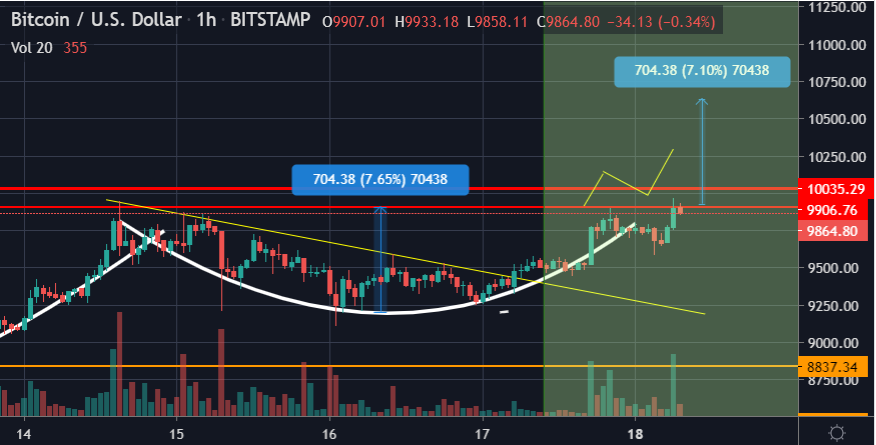 The prominent analysts consider the current trend to result in a full-blown bull run once the Bitcoin breaks this key resistance. There are also many other important factors apart from halving, helping in the aggressive upward movement in bitcoin price. The increased demand for Bitcoin has a preferential asset for investment and recommendation by Since the global lockdown induced by Covid-19, top financial analysts have recommended Bitcoin has a preferential asset to invest over stock and other conventional assets. This has led to a massive demand for bitcoin worldwide. As per the forecasts, If the current trend continues, the Bitcoin price would again reach 20K, its all-time high price.
John is working as a professional news editor at GetIgnite. He is accustomed to finding daily reports. Therefore, this keen working and addiction towards his work, it helps him to find good news.